1. Windsor Castle, in Berkshire, England
Windsor Castle, in Berkshire, England, is the largest inhabited castle in the world. It is one of the official residences of The Queen, together with Buckingham Palace in London and Holyrood Palace in Edinburgh. For all of you who are planning to discover this magically romantic part of the world, we have a collection of world's 15 incredible castles.
2. Chateau de Versailles, Pairs, France
Perhaps the best-known castle in the world, the breathtaking Chateau de Versailles just outside of Paris, France, boasts more than 700 rooms, 2,000 windows, 6,000 paintings and 5,000 pieces of furniture.

3. Odescalchi Castle, Rome, Italy
Odescalchi Castle, also known as the Castle of Bracciano, was the site of the nuptials of Tom Cruise and Katie Holmes. This 15th century castle offers breathtaking views of the Santa Marinella harbour in Rome, Italy.







4. Bran Castle, Romania

Perched atop a cragged 200-foot rock and shrouded in mystery, Bran Castle, commonly known as Dracula's Castle, owes much of its fame to the myth surrounding Bram Stoker's Dracula. This Romanian castle started as a defense post against Turks, became a customs post on the pass between Transylvania and Walachia, turned into a royal residence in the 1920s and today is a museum of medieval arts.







5. Leeds Castle – Lent, England

The 900-year-old Leeds Castle, which sits on two islands on the River Len in Kent, England, has been home to royalty, lords, ladies – and Sir Elton John, who played two sold-out shows on its grounds.







6. The Gothic Wawel Castle – Poland

The Gothic Wawel Castle in Poland is made up of a number of structures built around a central courtyard. During the early 16th century King Sigismund I the Old and his wife invited myriad renowned artists including Italian architects and sculptors to redo the castle into a Renaissance palace, transforming it into a much copied castle throughout Central and Eastern Europe.







7. The Heidelberg Castle – Heidelberg, Germany

The Heidelberg Castle in Heidelberg, Germany had a tortured past, having been hit by lightening twice, and damaged by both wars and fire. Its ruins are among the most important Renaissance structures north of the Alps.







8. Sanssouci Castle – Germany

Some call Sanssouci Castle Germany's Versailles. Unlike Versailles, however, Sanssouci, in Potsdam, is decorated in the Rococo style and is much smaller. The palace was designed to provide a private getaway for Frederick the Great, King of Prussia, in the mid-1700s, as the name Sanssouci, which translates loosely as "without cares" or "carefree, " indicates.







9. Dunluce Castle – North Ireland

Dunluce Castle, the site of Jackie Chan's "The Medallian" and several historic battles, sits on basalt rock 100 feet above the sea in Northern Ireland.







10. Bratislava Castle – Slovakia

Bratislava Castle, in Slovakia, houses four towers and spectacular views of the Danube River. The castle burned in 1811 and remained ruined until 1953 when a massive reconstruction was initiated. Today, the castle is a museum and tourist attraction.







11. The château de Rambouillet – Paris, France

The château de Rambouillet, about thirty miles outside of Paris, France, is the summer residence of the Presidents of France. The first G6 summitt took place in this palace.







12. The Biltmore House – Asheville, North Carolina, USA

The Biltmore House, in Asheville, North Carolina, is America's largest privately owned home. Built by the Vanderbilt family, this 250-room home resembles a French chateau. It houses original art from masters such as Renoir, 16th-century tapestries, Napoleon's chess set, a library with 10,000 volumes, 65 fireplaces, an indoor pool, bowling alley, and priceless antiques.







13. Castle on the Hudson, Manhattan

Though many of these castles are far away, these next few are closeby. Pictured above, Castle on the Hudson is within thirty minutes of Manhattan, overlooking the Hudson River on sprawling acres of manicured gardens and grounds. It was originally a private home and is now a hotel with a 5-star restaurant.







14. Boldt Castle – Alexandria Bay, New York, USA

The 120-room Boldt Castle, in Alexandria Bay, New York, sits in the 1000 Islands Region of the St. Lawrence River. It is a "monument of love on Heart Island of George C. Boldt for his wife Louise," the castle Web site reports. George halted construction on the castle in 1904 when his wife died of tuberculosis.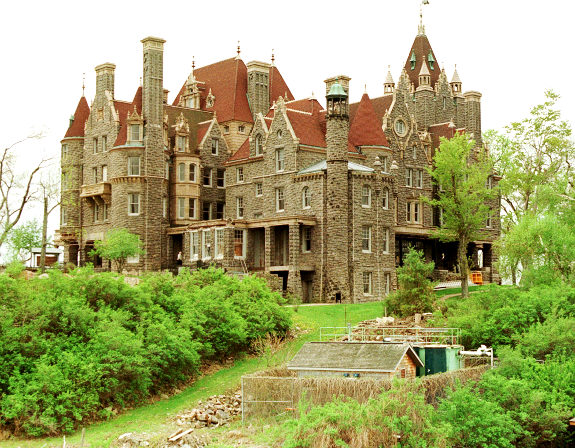 15. OHEKA Castle in Cold Spring Harbor, Long Island

OHEKA Castle in Cold Spring Harbor, Long Island was built by financier and philanthropist Otto Hermann Kahn on a 400-plus-acre plot for an estimated $110 million dollars in today's currency, according to the OHEKA Web site. This French-style, 109,000-square-foot, 127-room estate is the second-largest private residence in America. During the roaring '20s, Kahn used the chateau as a summer home where he hosted lavish parties with royalty, heads of state and Hollywood stars.