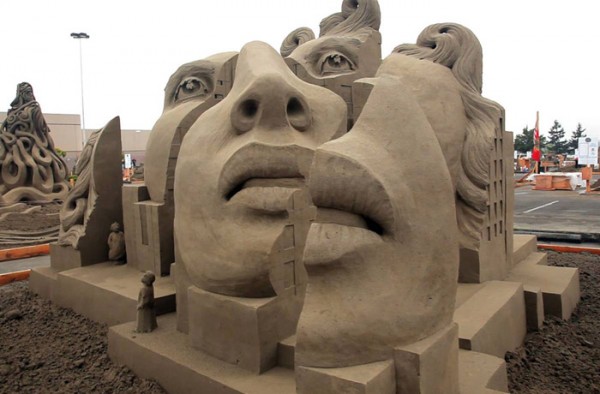 The World Championship of Sand Sculpting has been under way in Federal Way, Wash., since Sept. 8, and artists' work will remain on display until Oct. 10. The annual event, which draws competitors from around the world, took place in Canada for more than 20 years; this year marked the first time the United States served as the host country. artists compete for the top title in three categories: solo, double and teams.
Racing against the clock, members of Team Sandboxers fill wood forms with sand and water during the "pound up" stage of the Federal Way, Wash., event. The teams have six hours to pound their sand into solid cubes suitable for carving.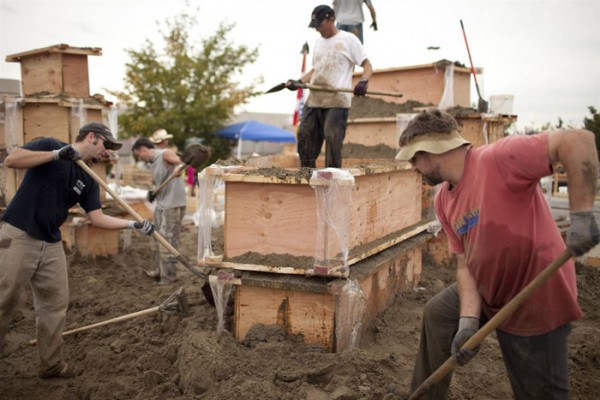 From left to right, Katie Korning, Jeff Strong and Kirk Rademaker of Team USA work on "Open Mind."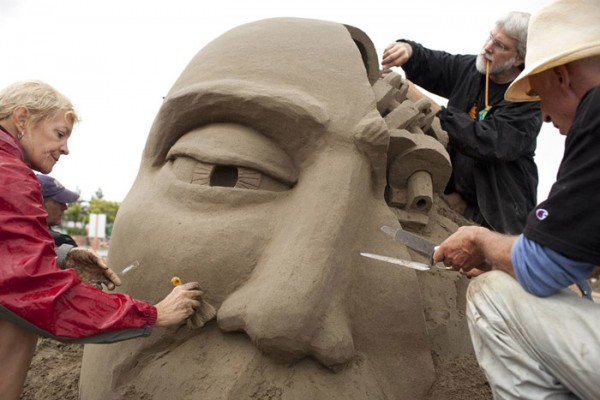 After making a cut, Helena Bangert from Amsterdam blows loose sand off her piece, "Walking Through."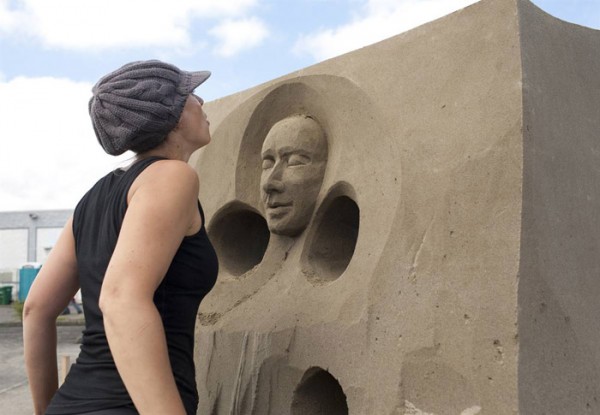 A member of Washington-based team Orbital Sanders works on a sculpture called "Missing Links."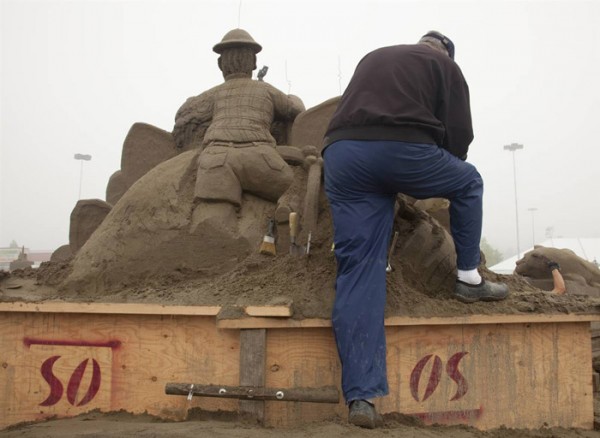 Dutch solo competitor Remy Geerts applies surgical precision to her sculpture, "The Abundance of Harvest."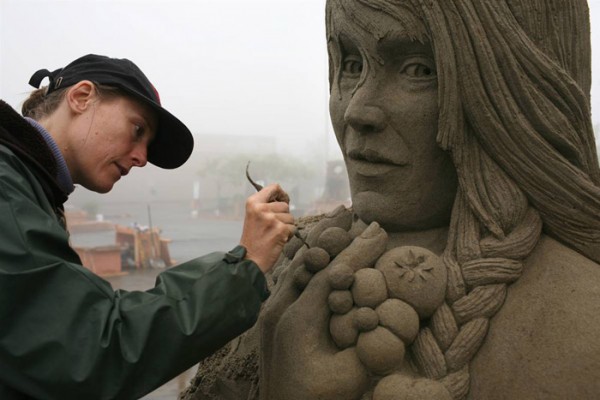 Tacoma, Wash., sculptor Sue McGrew works on "Noh Trifater."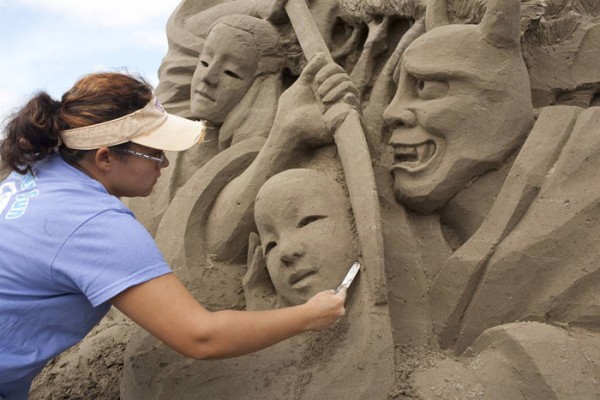 Quebec-based sculptor Marc Lepire works on his piece, "Krazy." It was inspired by a character in a movie he watched with his son.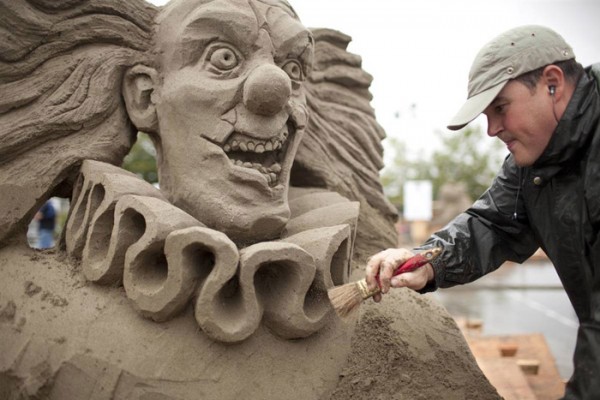 Nicola Wood, left, uses a trowel to smooth the base of Team Machas' sculpture, "Dream Like You'll Live Forever. Live Like You'll Die Tomorrow." Meanwhile, teammate Arianne Van Rosmalen carves small figures and Marielle Heesels sprays them with a water-glue mixture to keep them from blowing away after the water dries. The sculpture, a tribute to a team member who passed away earlier this year, won first place in the teams division.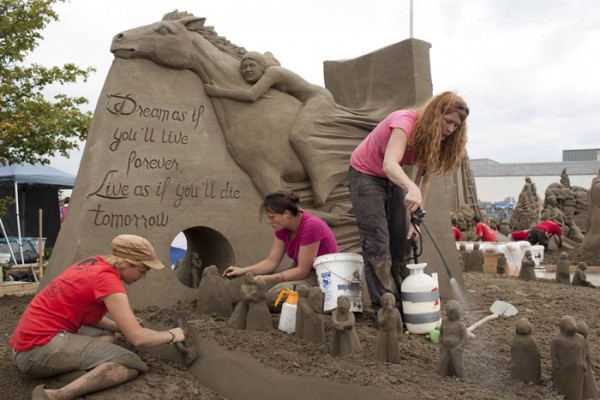 Sudarsan Pattnaik works on President Obama's hair on his sculpture, "Let's Stand for World Peace."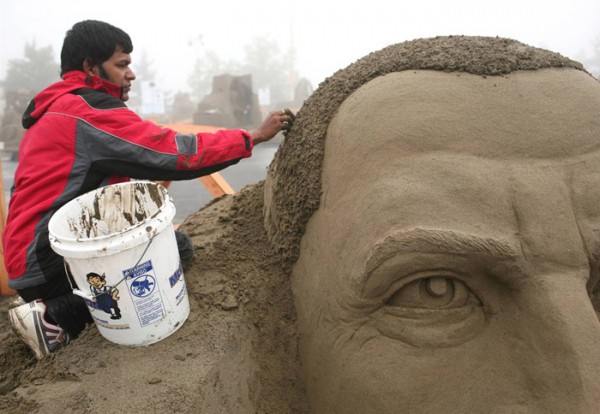 With five minutes left after four days of carving, members of Team Sand Boxers race to finish their sculpture before time runs out.
The back side of "Connected," a Seattle-themed sculpture, shows the Space Needle, Mount Rainier and rain pouring out of clouds.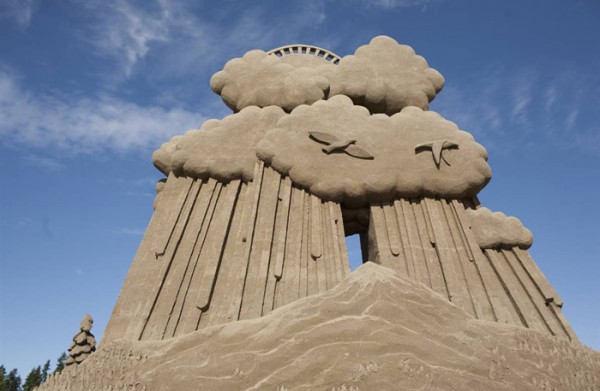 Dan Belcher of St. Louis runs around his solo sculpture, "Icarus II," minutes before the competition ends.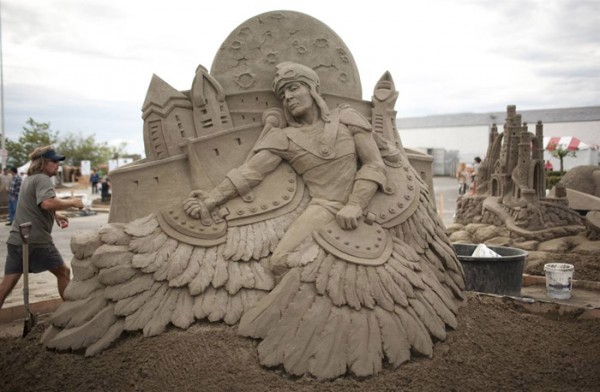 Joris Kivits from the Netherlands contributed "Puzzled" to the competition.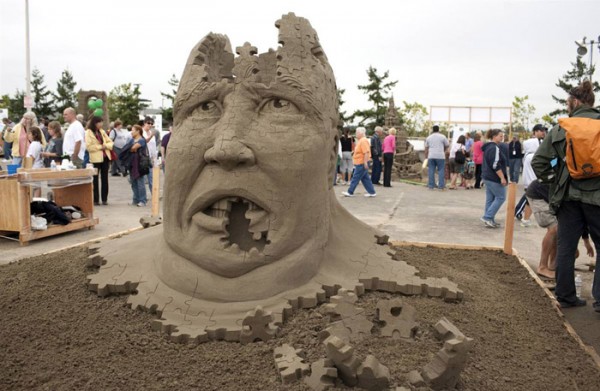 Brit Paul Hoggard sculpted this elephant using a technique called "soft pack," which means he didn't use any forms when packing the sand. "If you don't know how to do the basics of soft pack, you know, you've not got it all. You have to be able to do the hard and the soft. And there a lot of the sculptors that only concentrate on the hard," Hoggard said.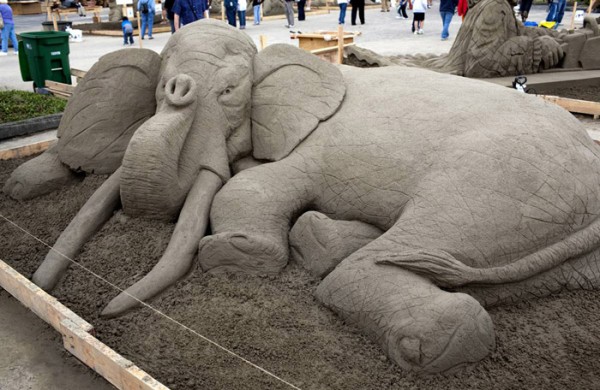 "Krazy" the clown was inspired by a character in a movie that Quebec's Marc Lepire watched with his son. The day before this photo was taken, the clown had hair on both sides of his head, but a bird landed on one side and collapsed that part of the sculpture. Lepire compensated by carving the skull open and exposing the clown's brains.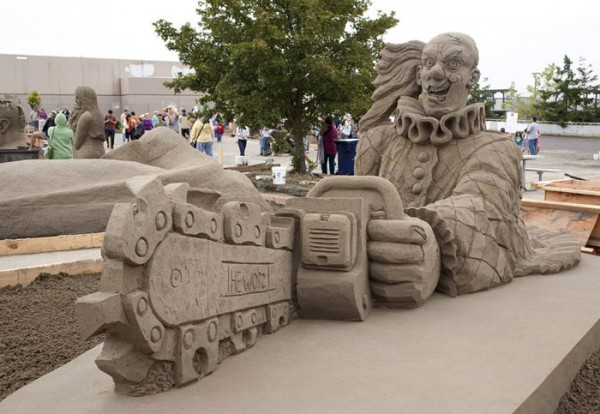 "Magnetic Feels" was built by Fergus Mulvaney of Ireland. When asked about the temporary nature of sand sculptures, Mulvaney replied, "No material lasts forever. Even the amazing Roman or Mesopotamian sculptures are slowly deteriorating. And like most things in the world right now, the most exclusive things are the ones you can't have. So this makes it even more special and more exclusive. Nobody can have it."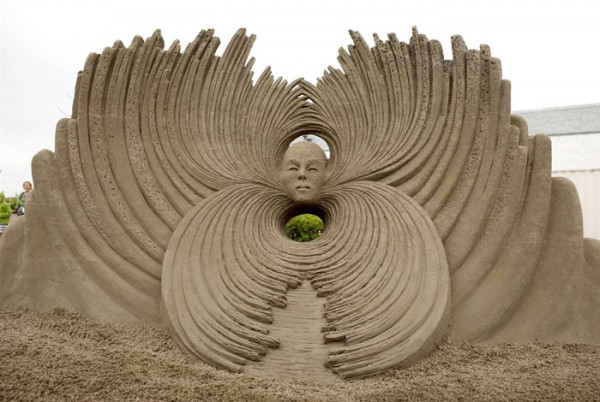 Uldis Zarins of Latvia sculpted a piece called "It Was Just a Bad Dream."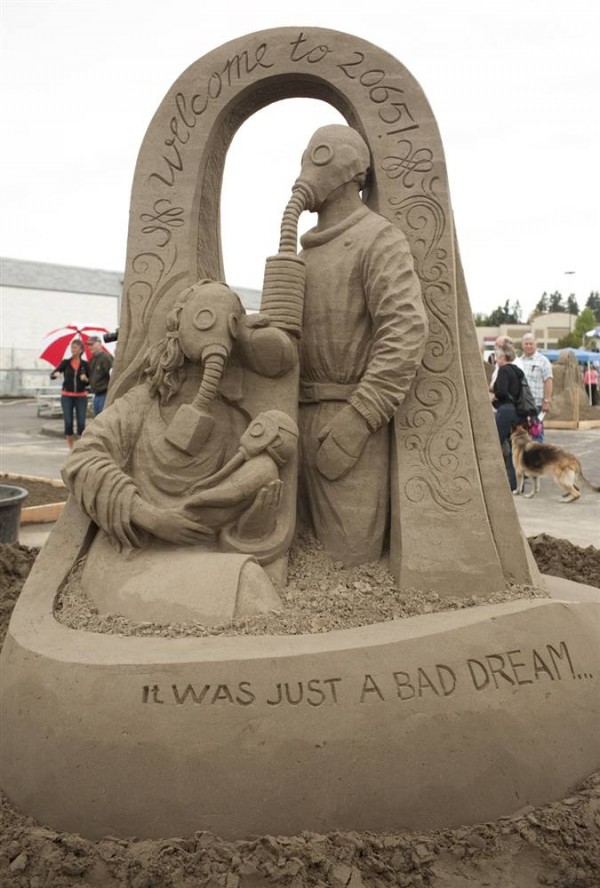 Damon Farmer from Kentucky conceived and built "To be Revealed."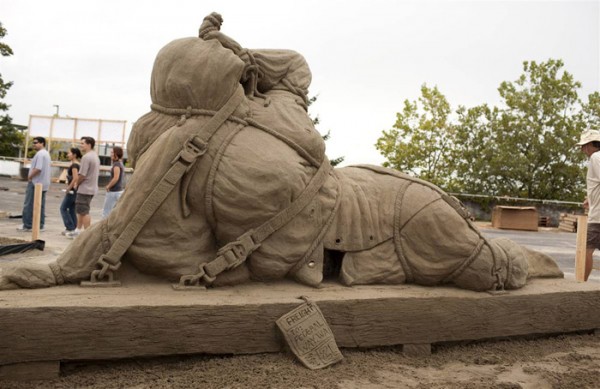 Rich Varano of Florida contributed "Fanta Sea for Sue Sea" to the competition.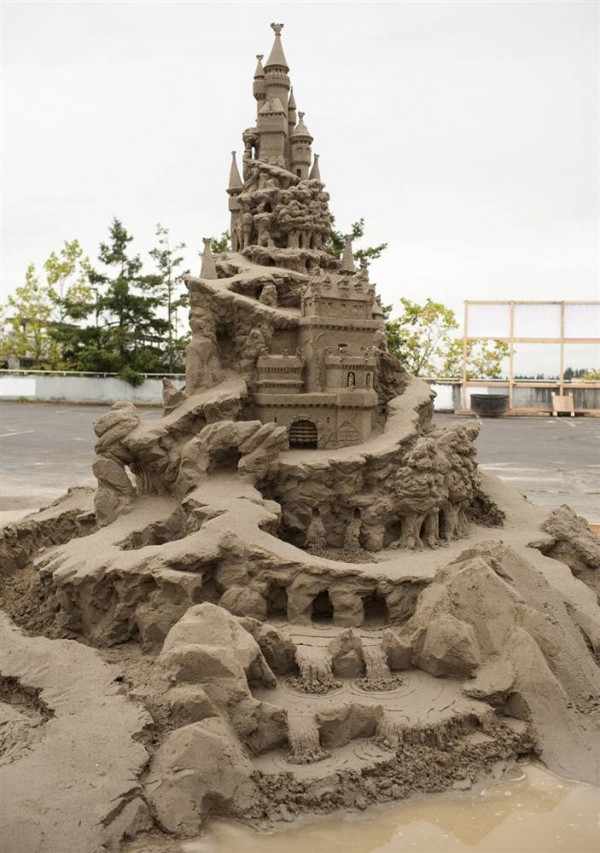 Benjamin Probanza of Mexico decided to call his sculpture "Untitled."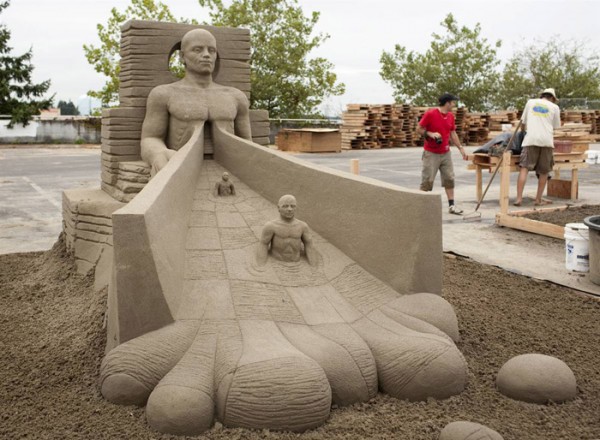 "Jimi" by Bill Dow of Montana was completed on Sept. 18, the 40th anniversary of Jimi Hendrix's death.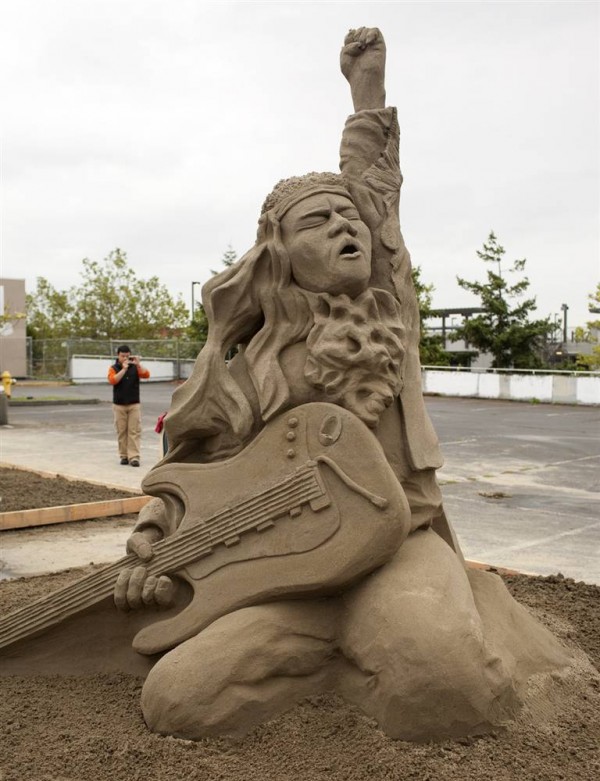 Karlis Lle of Latvia dreamed up a sculpture called "Thru the Wall of Love."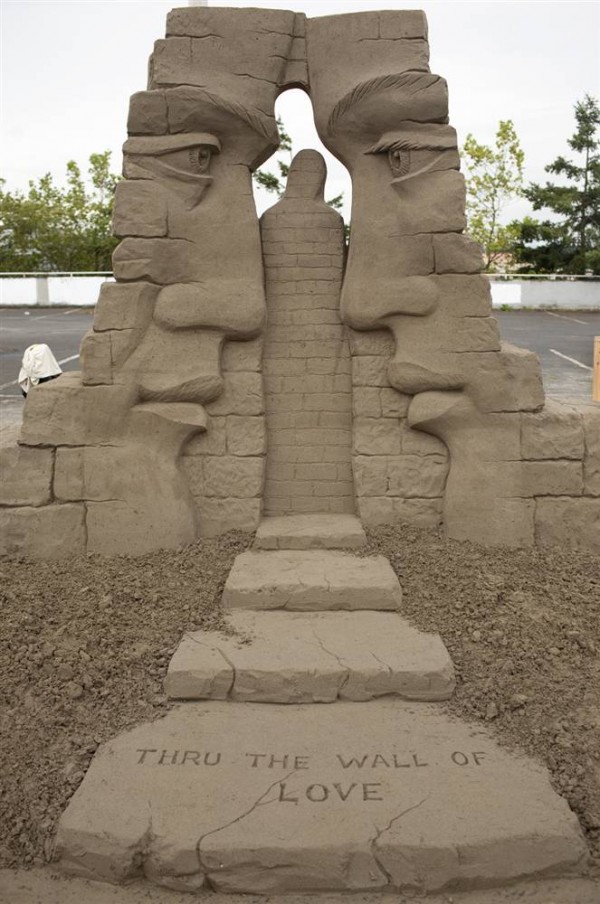 The face seen in "Facing the Negative" by Wilfred Stiger of the Netherlands is actually a concave part of the sculpture, rather than convex, so it appears lit from below.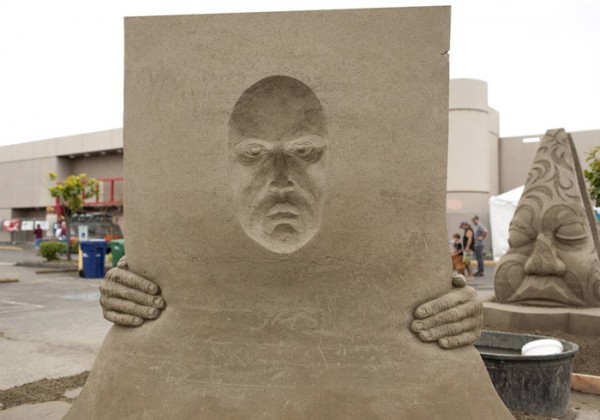 "Whirlwind" by Thomas Koet of Florida won first place in the solo division.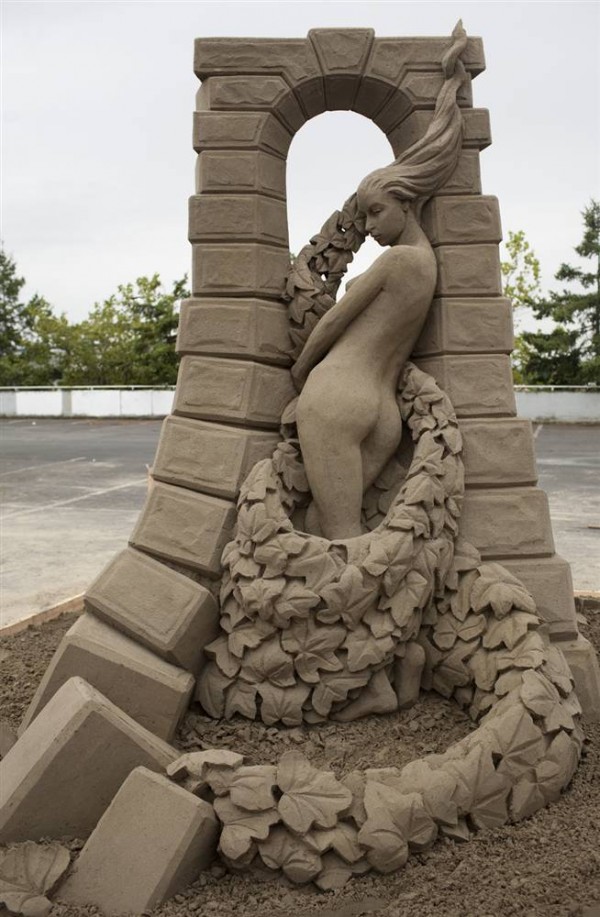 Damon Langlois of Victoria, B.C., puts finishing touches on Team Sand Boxers' "Connected," a Pacific Northwest-themed sculpture.
Joo Heng Tan of Singapore sprays his untitled sculpture with a mixture of glue and water to protect it from the elements.